National Financial Literacy Program for Youth (NFLP-Y) launched by the National Institute of Banking and Finance (NIBAF), a subsidiary of State Bank of Pakistan, to impart financial literacy among Pakistani youth and school going Children for strengthening their money management skills and understanding of financial issues.
To implement the project, the NFLP-Y team is looking for young, energetic, and highly motivated youth who can be trained as Master Trainers. Senior University Students, Fresh Graduates, Young Faculty Members, and Members from CSOs from any discipline and educational background are encouraged to apply
Want to make a Difference..?
If you're ready to take on the Challenge,
we want to hear from you. Most jobs take energy.
This one gives it.
Why join us?
Become part of a noble cause of nation-building
Avail an amazing opportunity to work alongside a highly-skilled, diversified, and experienced team of individuals thereby increasing your chances for professional growth.
Obtain experience certificate. (A project by the State Bank of Pakistan)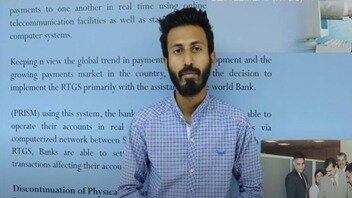 Syed Naveed Ahsan
He is our Master Trainer and has been a part of the NFLP-Y Karachi family for more than a year now. He is super passionate about empowering Pakistani youth to own their financial futures.
Wajahat Usman Interview
Meet Wajahat Usman! He is a lecturer at Preston University, Peshawar and also a passionate Master Trainer of NFLP-Y. Lucky to have him as part of our team!
Usman Ahmed
Meet Usman Ahmed, our Master Trainer from Quetta! He joined NFLP-Y in January 2019 and since then he has trained thousands of students.
{"video_url":"true"}